Top 10 active volcanoes to see up close
Mount Aso, Kyushu, Japan
There is some concern that Mount Fuji is showing signs of eruption in the near future, but as things stand, Japan's most-active volcano is Mount Aso, in Aso Kujū national park on the southern island of Kyushu. It has one of the largest calderas in the world, offering myriad viewpoints over its twisted, pitted landscape. Aso town can be reached by train (one hour from Kumamoto, two from Beppu, fares between £6 and £12). There are two cable car lines, called ropeways, from which to explore the Aso area. Aso Nishi (west) cable car station is a short bus ride from Aso station (£3 each way). Aso Higashi (east) cable car station can be reached by taking a local train to Miyaji station and then walking up the road to the cable car station. A toll road (about £3.50) goes right to the summit of the crater where there is a large car park. There is a lot to explore within the caldera but visitors must remember to check on accessibility before setting off: Aso is a gassy beast and its emissions often see areas of the caldera closed off.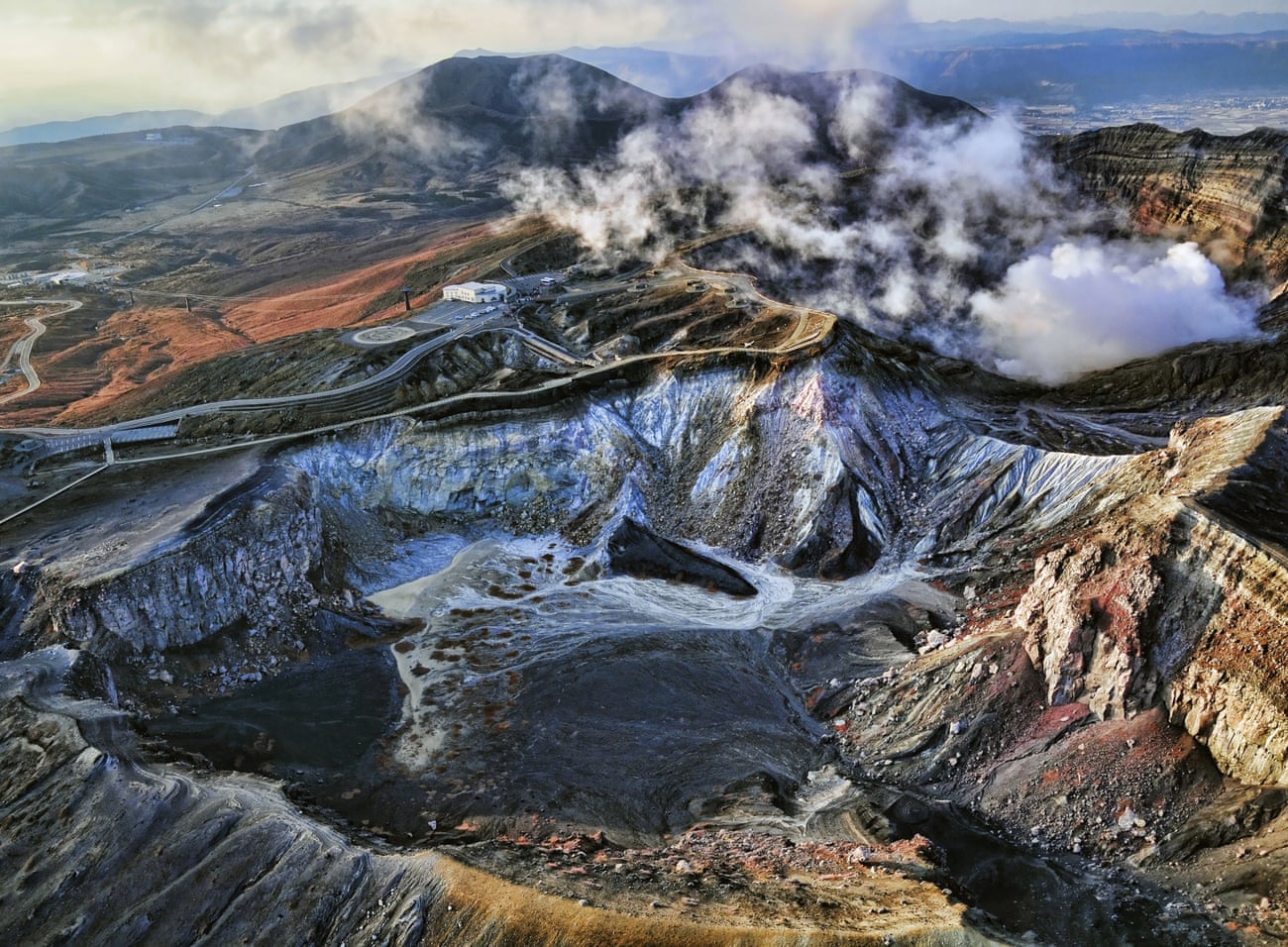 Whakaari (White Island), Bay of Plenty, New Zealand
At 321m, Whakaari is not much higher than Leith Hill in Surrey, and is only a couple of kilometres in diameter, but measured from its submarine base it rises to a respectable 1,600m above the sea floor. A convenient gap in the crater walls means visitors can disembark straight into the volcano without having to do any climbing. Whakaari, 49km off the North Island coast, last erupted in 2013 but it is fully suitable for guided tours, thanks to its relatively stable nature and intense monitoring, although its current branding by scientists is "restless". Visitors can expect to see fumaroles expelling steam and hot gases (masks provided), hot rocks and springs, an acid pool, bubbling mud … and a lot of seabirds.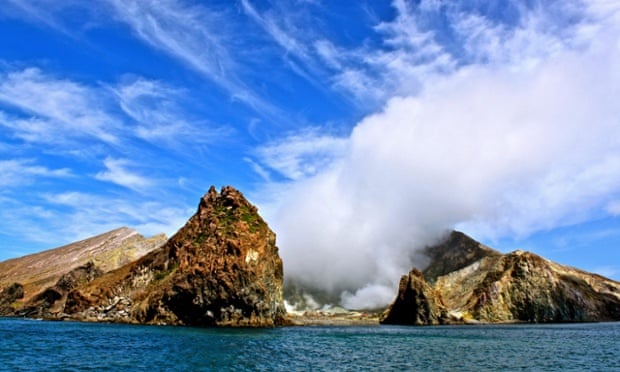 Mount Etna, Sicily, Italy
Etna dominates the city of Catania and eastern Sicily. Lacking competing peaks, it draws the eye: imagine two Ben Nevises on top of each other close to the sea.Despite the constant volcanic activity, it is still possible to make it to Etna's highest-allowable point of 2,920m and back in an afternoon. Visitors will see solidified lava flows from down the centuries reaching right into towns and villages, and craters at all levels of the mountain. It is these side fissures that still pose the biggest risk to Catania – which was destroyed by an eruption in 1669 – and nearby villages. The best route up is on the south side via the Catania suburb of Nicolosi. From here, drive, cycle or take the twice daily AST bus (which starts in Catania) up to the Rifugio Sapienza (at 1,923m), where tickets can be bought for the combined cable car and 4x4 bus trip, Funivia dell'Etna (€60pp), to the highest-possible level. The ticket price also includes a guided tour around a large, smoking crater next to an observatory. A more sedate way of exploring the volcano's environs is by train. The scenic Circumetnea Railway travels around the base of Etna from Catania Borgo to Riposto and costs about €8pp, taking three hours.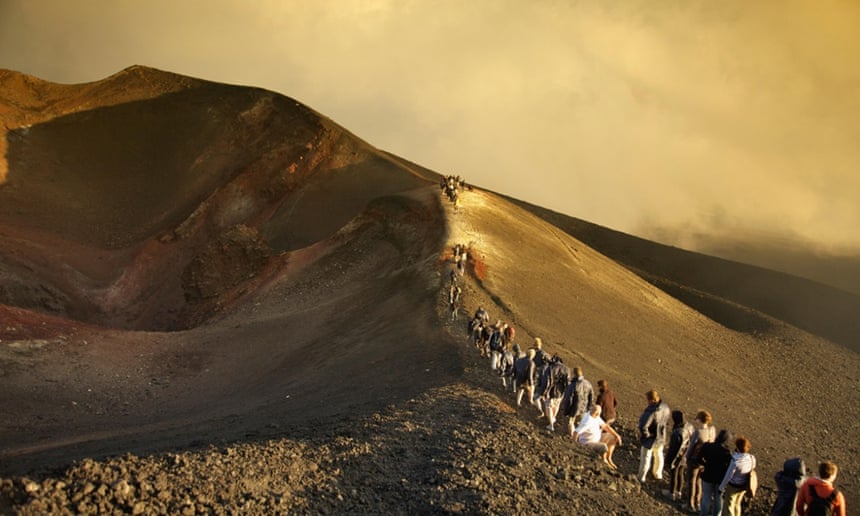 Mount Vesuvius, Naples, Italy
Possibly the world's most famous volcano – though it hasn't erupted since 1944 – and the most touristy, too. So much so that serene contemplation of nature's ferocity might not be possible given the crowds who ascend each day. At 1,281m it would only be the fifth highest mountain in the UK but its squat form lurks sinisterly over Naples. From the car park at 1,000m visitors climb the remaining 200m (about 30 minutes, tickets €10). The most popular path goes to the edge of the main crater where guides are on hand. Steam can be seen rising from parts of the crater and, as with nearly all volcanoes, there is a strong smell of sulphur. There are no public toilets or a visitors' centre (although there is the historic museum observatory halfway up the road from Ercolano) but the views are spectacular and the sense of history profound. The nearest railway station is Ercolano Scavi, from which minibuses and taxis take you up the mountain car park in about 25 minutes.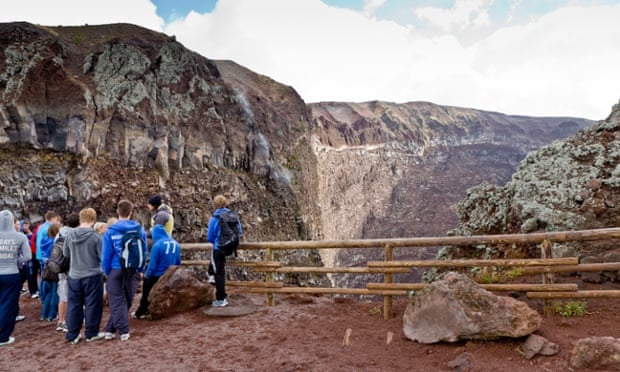 Mount Stromboli, Sicily, Italy
This is a 924m volcano with near-constant explosive activity. Although it's a modest size, it is a tough climb to the summit, but climbing skills are not necessary. Factor in up to six hours: three hours up, one hour to view the crater, and 1½ hours down. Use of a guide is obligatory above a point at 400m called the Sciara del Fuoco. Even from here any belch of magma at the summit should be visible. In any case, mild explosions – appearing at dusk like giant roman candles – happen on Stromboli, sometimes every half hour. Guided trips to the summit crater from the Sciara leave late in the day so the fireworks can be appreciated in full. The attractive trail to the Sciara starts in Piscità, about 2km west of Stromboli's port. Organised treks to the crater depart daily, timed to reach the summit at sunset and to allow 45 minutes to observe the crater's fireworks.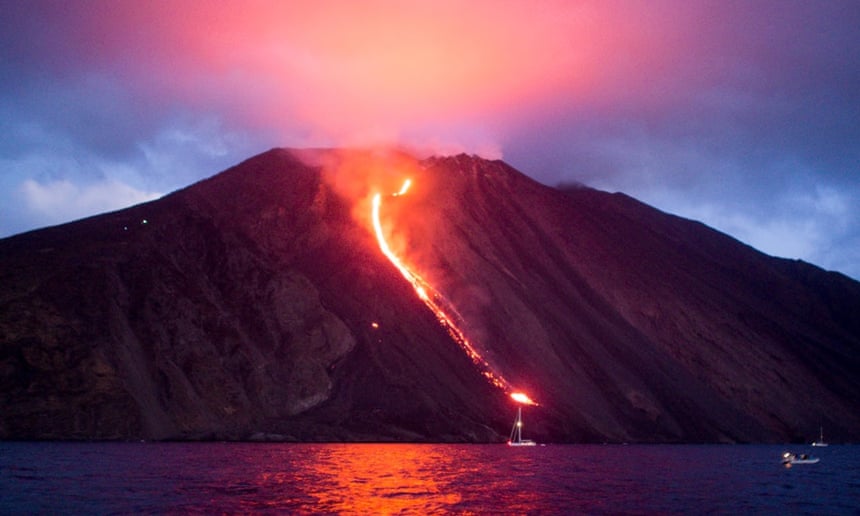 Kīlauea, Kauai, Hawaii
Kīlauea is the daddy of accessible active volcanoes and receives nearly three million visitors a year. At 1,247m it's not even the tallest volcano on Hawaii (it's dwarfed by the 4,169m Mauna Loa) but it has been belching out huge quantities of deep crimson, slow-moving lava almost continuously since 1983. Fortunately for visitors, catastrophic explosions are not Kīlauea's style – beautiful lava fountains are. There is no public transport within the area, a national park, so the choice for exploring rests between car hire and private excursions. The Kīlauea Visitor Center and Jaggar museum offer extraordinary views of the lava lake within the Halema'uma'u crater. After dark the scene takes on another complexion, literally, as the glow of magma illuminates the clouds and landscape.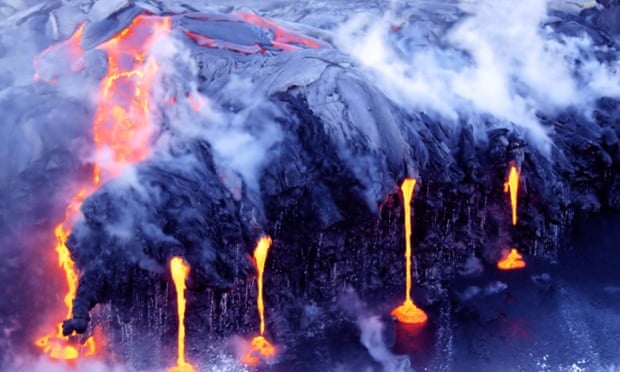 Arenal, Costa Rica
A three-hour drive from the capital, San José, this is an explosive cone admired, like Japan's Mount Fuji, for its aesthetic qualities. But its beauty can be brutal: in 1968 it erupted unexpectedly, having been dormant for centuries, destroying the small town of Tabacón. Arenal is set with its own national park, within which there are numerous trails from which to explore the area's fauna and flora. Trails cross lava fields from previous eruptions and take visitors through bird, butterfly and snake-filled rainforest. There are several operators offering guided tours in the area. Anywhere Costa Rica has a one-day tour taking in hot springs, waterfalls and the scars of the 1968 eruption. Food and drink, park entrance fee and transport are included for £124 adults, kids £95. The best accommodation for viewing the volcano is the Observatory Lodge and Spa (doubles from US$79 B&B), a couple of miles from the mountain. From here, daily guided walks set out.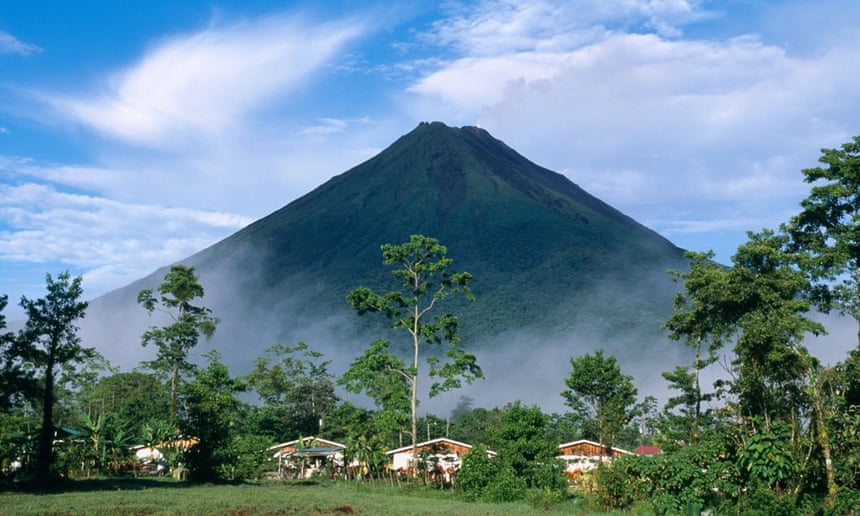 Mount Batur, Bali, Indonesia
An active 1,717m volcano that's a moderate 2½-hour climb near the town of Kintamani and one hour and 20 minutes' drive north from popular Ubud. The mountain has "mild-to-moderate explosive activity" and lava flows, although during 2015 it has entered a quiet period. The best route up the hill is from the village of Toya Bungkah because from here much of the climb is through shady forest. The village is also, handily, HQ to the Association of Mount Batur Trekking Guides (open 3am-1pm). The entire area is volcanic and the higher Mount Agung dominates the south-eastern horizon. The view of forest, volcanoes and lakes is superb but often clouds build up during the afternoon, obscuring the view. For this reason – and to catch the sunrise from behind Agung volcano, the guided trips set off at about 3am. Although the climb is relatively easy, trips are best undertaken with a guide (about £20 from Toya Bungkah). Some travellers have reported over-aggressive touts offering trips up the mountain, but whatever the logistical irritations, the views over Lake Batur and the various live craters should make it worthwhile.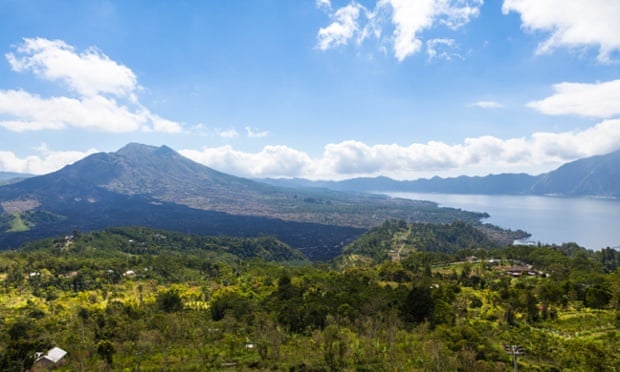 Nisyros, Dodecanese, Greece
This is the least well-known, and least-active, volcano in our top 10. It is on Nisyros island in the Dodecanese between Kos and Tinos. It may not make headlines for its pyrotechnics (it last erupted in 1888), but magma is rising beneath the island, seismic activity has been increasing and the temperature of vent emissions is on the up. Only 8km in diameter, the island is dotted with villages. It has a 3km-wide caldera with active fumaroles, hot gases bubbling up through mud, and hot springs. The island is reached by ferry from Kos, Piraeus, Tinos and Leros. Boats (ferries and charters) from Kos leave from Kardamena (shorter transit time of one hour, from €24) and Kos Town (from €9). There is a frequent, short, €2 bus journey to the crater from the port of Mandraki.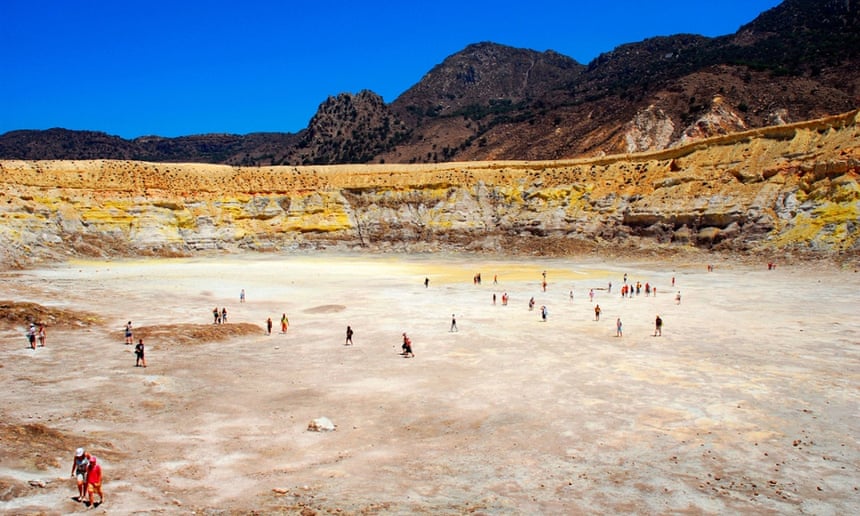 Piton de la Fournaise, Réunion, Indian Ocean
An incredibly active 2,632m French volcano – who knew? The reason you might not have known is that it's on Réunion, a French department in the Indian Ocean. But it's worth including because, as with Kīlauea, it regularly gives amazing lava and light shows and there are roads and paths linking the various active and dormant craters. Access to the very active caldera is intermittent, for obvious reasons, but there is a good forestry road connecting the Highway of the Plains to the Pas de Bellecombe where there is a car park, a gîte and snack bar, plus views across part of one of the calderas. There is no public transport to the main volcanic area. From Pas de Bellecombe well-signed paths lead to craters through superb subtropical scenery.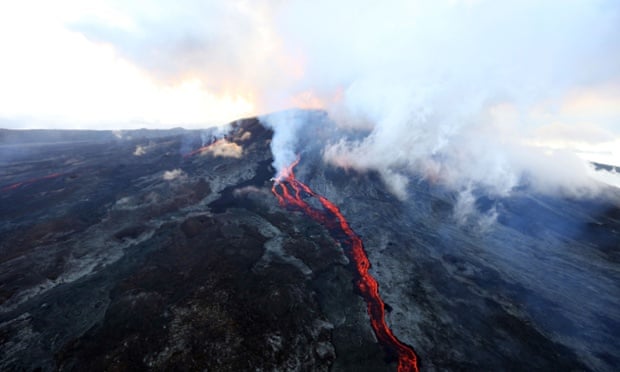 www.theguardian.com
27/05/2015